Since "Punxsutawney Phil" was wrong about the start of Spring the calls for our cars have started to come in earlier than expected.  If you think you may want to reserve one of our cars for a special event let us know as soon as possible as the dates for the cars are filling quickly!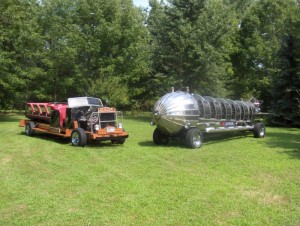 Our rates have not changed, (Possible travel fees may apply depending on the location of your event) and as in the past, we do not require a deposit, and request a 1 to 2 hour cancellation notice if the weather becomes inclement and you decide to cancel. The Rocket Ship Car will carry up to 10 adults or 15 children, the Thriller Car will carry up to 8 adults or 12 children. The number of rider's is determined directly by the actual size of each rider!
For your convenience and future reference please bookmark this direct link to the Calendar Page of my web site, https://www.euclidbeachpark.com/events/ there you will see everything each car has been booked for. It makes planning your event that much simpler by seeing immediately if one of our cars would be available. If the date and time are not listed that means the car is available. If you have questions or concerns at any time please do not hesitate to contact us.
Thanks again for having us at you event in the past, and if we can be of service to you or your family in the future, please do not hesitate to contact us.
Sincerely,  "The Euclid Beach Boys"®